The COSCBWI meeting for April featured middle grade author Jennifer Maschari. Jen's debut novel,
The Remarkable Journey of Charlie Price
, just released in February 2016. We were excited to have her speak to the group about her writing journey and hear her advice for aspiring authors.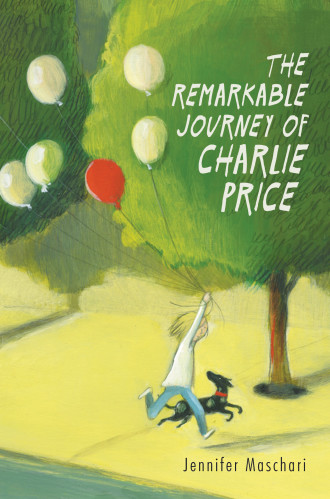 Although
The Remarkable Journey of Charlie Price
is Jen's first published book, she explained that it wasn't the first book she wrote. Jen loved both reading and writing from an early age, and had encouragement from her teachers that she would become a writer someday. Jen first chose a career in teaching, but decided in 2010 that she wanted to give writing a serious try. She enrolled in an online writing class, which helped her stay focused with deadlines and assignments. The class also introduced her to fellow writers who would go on to become her writing buddies and support group.
While she loved the book that she wrote during the class and queried it to many agents, it didn't snag her a book deal. She sorted through the encouragement and discouragement, and ultimately wrote a new book. Happily, the second book was
The Remarkable Journey of
Charlie Price
, which won the attention of an agent and sold to a publisher more quickly than she expected. Jen said it was a serendipitous situation, and that she feels her second manuscript was successful because she both worked hard
and
was very lucky in how everything lined up. She has two more forthcoming books to be released in 2017 and 2018, and is so pleased that she gets to share her stories with middle grade readers everywhere.
Jen knows how hard the journey to publication can be and had a lot of great advice for the COSCBWI members. She encouraged everyone to write for the age group they love. For her, she feels that the middle grade years are such a powerful, memorable, and tender time in a young person's life. She also encouraged each COSCBWI member to not shy away from the story inside them--even if it isn't the easiest story to tell. Jen writes about serious topics, but aims to create a safe space between the pages for kids to experience big emotions. Your story may be just what a child needs to help them deal with their own difficult situation. Lastly, Jen encouraged everyone to never, ever give up. While it may be a long and winding journey, you just have to believe that whatever you're working on will one day be
great
.
A big thank you to Jen for sharing her road-to-publication story with our group! You can find out more about Jen and her writing at
jenmaschari.com
.
And if you want to learn more about COSCBWI, be sure to visit the group website at
http://ohiocensouth.scbwi.org
. I hope to see you at the next meeting!
Note: Cover image is from Jen's website at http://jenmaschari.com/books/.