This month's Central and Southern Ohio SCBWI meeting featured author-illustrator Anne (Vittur) Kennedy. Anne told us all about her path to publication and gave the group an insider's perspective on what it entails to write and illustrate a picture book.
Anne illustrated for 30 years before she had the opportunity to become an author-illustrator. Her path to publication was a bit unorthodox. She didn't get a formal art education and instead went to school for a degree in music education. She always loved drawing, though, and was fortunate to get an agent recommendation. The agent wasn't sold on her work at first, so she asked if she could revise her portfolio and try again. He gave her a job thereafter, and her life has been filled with illustrating ever since. The Farmer's Away! Baa! Neigh! came out in 2014 and is the first book she got to both write and illustrate. Her newest author-illustrator project, Ragweed's Farm Dog Handbook, just came out in August and she hopes it will become a continuing series.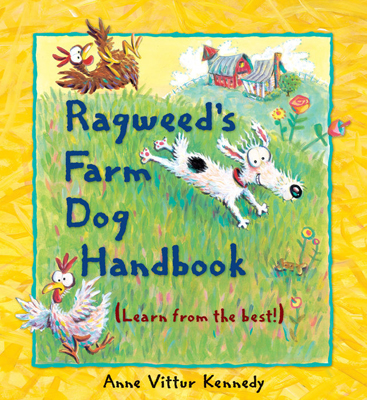 After telling us a bit about herself, Anne opened the floor for questions. She offered great advice for aspiring artists and writers, and had lots of interesting things to say about her work including:
-She finds drawing animals much easier than drawing humans. Sometimes when she has to draw children, she thinks of them as rodents instead.
-She thinks that one of the most difficult parts about publishing is self-promotion. Anne recommended that unpublished writers and illustrators become familiar with social media and start building their platforms as early as possible.
-Anne loves working from home and sometimes stays in her pajamas all day when she gets swept up in her work. (Who isn't guilty of that from time to time?)
-Anne believes that there's no right way to get published, and reminded us all to put our best work out there and find our own unique paths to publication.
After Anne answered everyone's questions, she read
Ragweed's Farm Dog Handbook
aloud. With charming illustrations and a hilarious dog protagonist, it's a must-read for any canine lover. :)
You can find out more about Anne on her artist page
here
. (Her gallery is adorable!)
If you want to learn more about Central and Southern Ohio SCBWI, be sure to visit the website at
http://ohiocensouth.scbwi.org
. I hope to see you at the October meeting!
Note: Cover image for Ragweed's Farm Dog Handbook is from mbartists.com. Cover image for The Farmer's Away! Baa! Neigh! is from amazon.com.