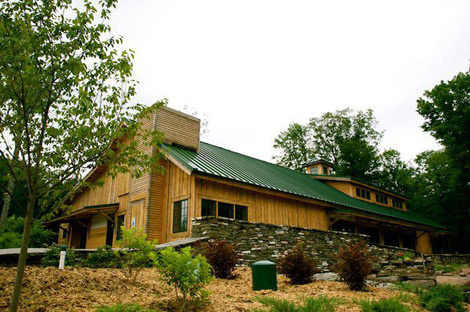 All writers are welcomed warmly at the Barn at Boyds Mills!
This weekend, I'll be packing up my laptop and heading off to the woods for an "Unworkshop" at the Highlights Foundation. I was very fortunate to attend two fantasy workshops at Highlights in the past led by authors Laura Ruby and Anne Ursu. (You can find all the blog posts I wrote chronicling those workshops
here
and
here
.) Those experiences were nothing short of magical with outstanding faculty, plenty of time to write, a peaceful environment, and some of the most delicious food I've eaten in my entire life.
This is my first time attending an "Unworkshop." Instead of a structured workshop with faculty, the "Unworkshops" are simply an opportunity to hide away in a cabin for a few days with fellow writers and write 'til your fingers fall off. (Which essentially equates to "Writers' Heaven!") At the prior workshops I attended, I met many other wonderful fantasy writers, and several of us are using this "Unworkshop" as an opportunity for a mini-reunion. I'm looking forward to catching up with old friends, and meeting lots of new writers, too.
Since this isn't a structured workshop, I won't be posting daily summaries of my time at Highlights as I did in the past. I'm just going to enjoy the quiet, eat (and eat, and eat some more), and spend some long-overdue, quality time with my manuscripts.
See you when I get back!
Note: Picture is from the Highlights Foundation website at http://www.highlightsfoundation.org/.